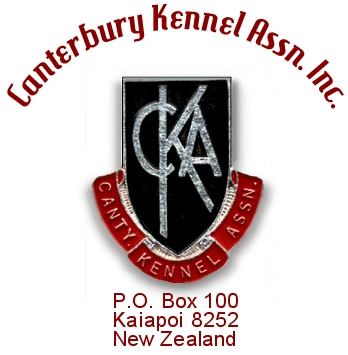 Objects of the Canterbury Kennel Assn. (Inc.)
To promote and nurture projects and initiatives directed at the general public, to pass on learning about pure bred dogs, to share experiences and expertise, to hold lectures, training sessions and exhibitions so as to increase the publics competency, skills and understanding of dogs and their breeds. To protect and promote the overall welfare of animals and to support (whether financially or by other methods) initiatives that are conducive to those aims, such that the primary purpose of the club shall be the advancement of education about dogs and their breeds, in a charitable sense.

To encourage like-minded people of the community to participate in and become involved in the activities of the club.

To administer and control the use and upkeep of the clubs centre at McLeans Island, Christchurch, known as the Canterbury Kennel Centre.

To provide assistance to other similar charitable organisations through co-operation, hands on service, the sharing of ideas, fundraising events and the provision of sponsorship or prizes.

To undertake other general charitable activities within New Zealand of a similar nature as may be conducive to the obtaining of the above objects or which may benefit the community generally.

The club's objects shall only be carried out in and to benefit people in New Zealand, however the club may carry out activities outside New Zealand to promote the club.